At the cutting edge


of cooling technology
We transform massive energy-consumers into streamlined money-makers. That's all you need to know. But please, feel free to read on.
Van Abeelen Groep is one of the most innovative companies in the field of refrigeration, cooling, and air-conditioning technology in the Netherlands. We help you excel, in a cool way.
More info: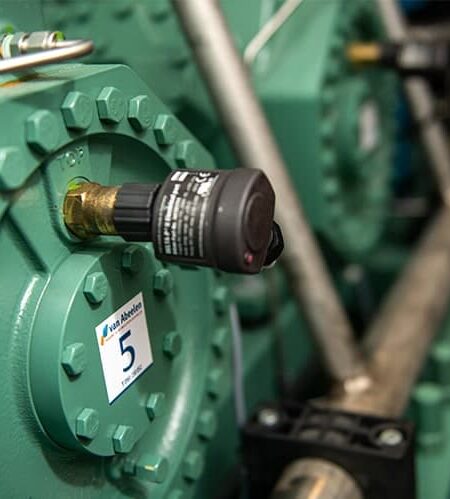 For our

24-hour service

call the Cooling Technology department:

+31 (0) 161 230 052
As a recognized full-service installation company, we design, build and supply high-tech industrial cooling and air-conditioning systems. In other words: refrigeration systems and air-conditioning technology systems allow us to cool your processes, products or rooms efficiently..
With innovations in cooling, heat and freezing technology, we help our customers achieve top product quality, as well as a sustainable production process. This enables better operating results and contributes to a more sustainable food chain.
Because our departments collaborate interactively, we create synergy: 1+1=3. As a result, we always work towards giving you the most efficient, and most cost-effective solutions.
---
We help you excel, in a cool way!
Innovative Cooling Technology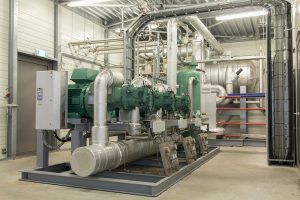 Cooling technology is constantly evolving. We follow innovations and new technologies closely, especially in the areas of refrigeration technology, air-conditioning, industrial freezing technology and solar cooling technology. Our challenge is to offer you hassle-free, low-maintenance cooling solutions. On top of all that, they make optimal use of residual heat, maximise return, are long-lasting, and have a low environmental impact (natural refrigerants).
addition to optimizing maintenance and energy savings, Van Abeelen also offers 24/7 remote support. We do this from our "control room", where we are able to monitor your installation 24/7.
For any cooling issue, the rule is that the sooner we get involved, the more efficient we can be.
For Business and Industry
Our customers include many national and international food producers, cold storage companies and distribution centres. So, we are accustomed to thinking big and designing accordingly. From cooling a production line for oven-baked biscuits to cold storage for medicines. From a flower auction warehouse to an indoor ski-rink. We've all done it all, at least once. With our complete range of professional cooling technology, air-conditioning, climate control, rental solutions and 24-hour service , we are a full-service cooling technology company you can rely on.
Refreshing Customization
Do you have a complex issue? Van Abeelen's experienced engineers and professionals always come up with a customised solution. We strive for sustainable solutions and innovation, and that can be seen in everything we do. In fact, we regularly come up with novel innovations in our customization processes. In short, Van Abeelen is a pioneer in the industry and is continually driven to ensure that your cooling technology and/or climate control or air-conditioning installations give you optimal performance.
Our Own Design, the VACU Cooling Unit
A special feature of our range is the VACU, a cooling unit that was developed in-house and can be constructed via a modular system. The VACU allows you to cool any production process in a sustainable and energy-efficient manner. The VACU capacity varies, ranging from 50 to 300 kW. In addition to the VACU, we produce cooling units with CO2, ammonia or propane as the refrigerant..
Subsidy
If required, we can equip the VACU cooling system with a frequency-controlled compressor and a condenser with energy-efficient fans. The cooling unit is equipped with electronic expansion valves. You can apply for an Energy Investment Deduction (EID) subsidy to purchase a VACU.
This machine is often used in the food industry, cold stores/freezing units, and distribution centres.
Examples of Applications for Cooling Technology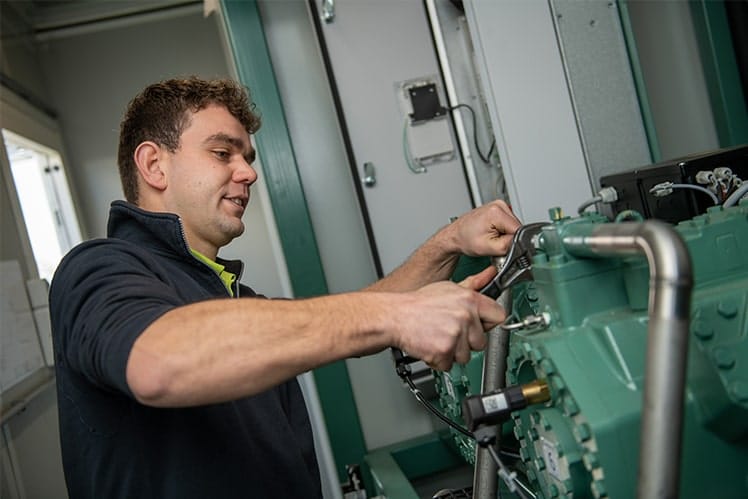 • coolers for ripening cheese
• meat coolers
• cold rooms for dairy products
• potato, fruit and vegetable coolers
• flower and bulb coolers
• refrigeration and freezers in the care sector
• refrigeration installations in the logistics sector
• refrigerated storage for the medical sector
• cleanrooms in laboratories
Do you need a cooling or climate-control solution? Van Abeelen is an all-round specialist in cooling technology, air-conditioning technology and professional freezing solutions.
---
Would you like more information?
Of course! Call +31 (0)161 230 052 or fill in the contact form below. We will contact you as soon as possible.