Cold-Water Machines
Production lines for the food industry must process foodstuffs in a stable low-temperature environment. Cold-water machines are often used to cool production processes in the industry. The efficiency of these depends on the system design and the PLC control technology. The more intelligent the control system, the lower the energy consumption.
We have standard cold-water machines and we design custom-made machines.
Energy savings for cold-water machines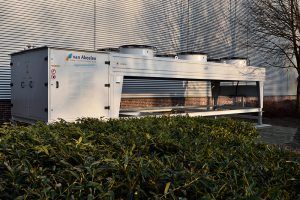 Cold-water machines for cooling buildings require energy. In the design phase, energy-saving is our standard starting point. We calculate all possible variants, from A to Z, as we only like good surprises. Time and time again, our energy designs for cold-water systems prove that your investment is easily recouped. A 20% to 30% energy-saving margin is likely. This is not only beneficial for you, but also for the environment.
Climate-Control Installations for Various Sectors
Both companies and factories need a variety of climate-control installations. Depending on the individual case, climate solutions vary from simple to complex. Van Abeelen supplies cold-water systems to the food industry, laboratory cleanrooms, hospitals, sports halls and swimming pools.
Of course, our 24-hour service is always available.
Would you like more information?
Of course! Call +31 (0)161 228 043 or fill in the contact form below. We will contact you as soon as possible.