Plate Freezer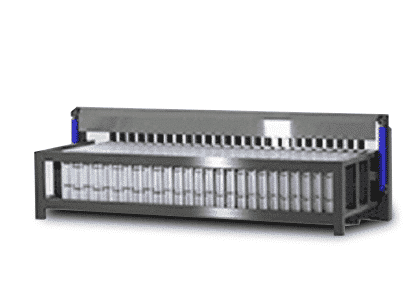 Our plate freezer is usually used for bulk freezing ground-up products (MSM, fish, pet-food, fruit, etc.), and is a quick and easy way to form frozen food-blocks with minimal effort. Fast and easy loading and unloading makes the plate freezer a popular choice for high-production-capacity environments. With our stainless-steel frame as a standard, our plate freezer is a freezer that meets the highest food safety standards.
Vertical plate freezers
Van Abeelen is a world leading manufacturer of stainless-steel solutions for the seafood and food processing industry.
Our vertical plate freezers are built to deliver high product quality at the lowest possible cost.
The plate freezers have large capacity, good ergonomics, and a cleaning friendly design, all contributing to ensure an even more efficient process.
A highly skilled after sales team is always at your disposal ready to solve any challenge you may face.
Therefore, we are certain that we will find the perfect processing solution for you.
Horizontal plate freezers
Van Abeelen horizontal plate freezers are world renowned for their strong, long lasting construction, with an ergonomic and hygienic design.
The horizontal freezers are designed to preserve high product quality at the lowest possible cost.
The horizontal plate freezer comes in a wide range of plate openings to accommodate various tray sizes.
A specialised after sales team will be ready to help you and solve any challenge you may experience after your purchase of your new freezing plant.
Contact us to know more.
Other freezing techniques: